Helping Your Au Pair Socialise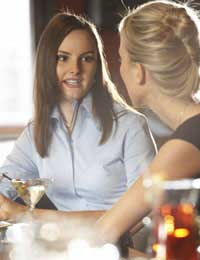 For many girls who come to stay in the UK as Au Pairs, it is their first time away from home. Before they come, they will have been excited by the prospect of an adventure abroad, seeing the world and experiencing another culture. But once here, the reality quickly dawns that they are far from friends and family and have to speak a different language!
These are natural feelings and it is when the host family can play a big part in helping their au pair settle in and start to make friends. Follow our tips to help your au pair socialise.
What You Can Do
If your au pair is feeling lonely, a host mother or father will be the nearest she has to family while she is in the UK, and as such you can help in the following ways:
Talk to Her and Be Interested
It is amazing how many families take on au pairs merely to help with their own busy lives without making the effort to invest in a 2-way relationship. So the first thing you can do is make time to sit down and chat to your au pair about how she feels. Help her to understand her feelings are normal, but that she is doing well and her parents would be proud.
Be interested in her and her country and invite her to put up pictures on your family notice-board or in a place integral to the home. On festival days she would otherwise be celebrating at home, ask her about her traditions or invite her to prepare a typical dish of her choice for dinner one evening.
If she feels she is interesting and you are interested, it not only helps your relationship but helps integrate her socially as well.
Ask your Agency for Au Pair Contacts
If you have used a local agency to find your au pair, ask them to provide names of other girls in the area.Good agents will have a list of girls in the area who either don't mind being called or who are happy to contact your au pair, and take her out for the evening. Just to go out with people her own age and speak her own language will be a tonic and help her to realise that she is able to make some friends.
Enrol her at Language School
As soon as your au pair arrives, one of the first things you should do, is help enrol her in a local language course. As soon as she starts attending lessons, she will realise that she is not alone in being unable to speak English fluently, but that there are other people in the same boat, going through the same experiences.
The lessons will help give her week structure, enable her to meet fellow language students and also be in contact with other adults who can provide support. In addition there may well be clubs and activities for students to participate in, advertised at the language centre.
Show Her Around Town
During the first few days of your au pair's arrival, make some time to show her around your local area. Make sure she knows where to find facilities such as the library, sports centre and tennis club and ask if she'd be interested in joining any activities.
Clubs, Voluntary Work and Churches
Other ways to get involved in the community are via local clubs and organisations. Many charities are crying out for help and would actively welcome an extra pair of hands from a young person for a few hours per week.
Because charities are often staffed by retired people, they are also more likely to have the time and patience to help with any language difficulties and will often enjoy taking an au pair under their wing! This, again, can give another dimension to an au pair's social life.
Similarly, most churches often have excellent support networks, clubs and services and would be only too happy to help integrate a young girl abroad.
Remember to Include Her
One of the most important things when hosting an au pair and helping her to socialise, is to include her in your normal family life.
At first it is a strange thing to have an unknown person staying with you, but in taking her on, you have your committed to treat her as one of your family and as such, you must remember to make her feel welcome at all times and whenever appropriate, include her in all your activities.
All in all, if you invest time in helping to support your au pair socially at the start of her visit, you – and she - will be far more likely to have a happy au pair stay.
You might also like...