Language Schools for Au Pairs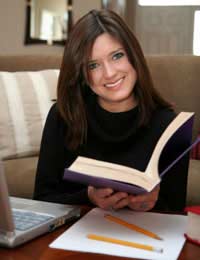 One of the principle reasons au pairs come to the UK, is in order to improve their English. In fact it is a requirement of the programme - and unless girls specifically make it clear that they don't want to go to lessons, the host family is duty bound to let them.
It is therefore important for families to be familiar with language schools and what they have to offer.
Who Pays for the Language School?
It is the responsibility of the au pair's host family to research and preferably book the language course that their au pair wishes to attend. However, it is the responsibility of the au pair to pay for their own lessons and any college fees themselves.
Cost of Courses
The fees for language courses can vary hugely and it would be wise to look at all the various options on offer.
If your au pair is from an EU country, there are often classes held at local adult education centres or college which are either free or very inexpensive. However, for non-EU citizens, courses can be quite a bit more expensive and it is worth shopping around.
Courses are not the same price at each centre and can also vary depending on which Local Education Authority (LEA) you fall under –so if the next town is under a different LEA, why not check their college prices too, in case there is a significant difference. Au Pairs do not have much money and will be keen to get the best value they can!
Also, if the courses are very expensive, do let your au pair know so that he/she can start saving before they come.
Accredited Certificates
Most language courses which au pairs attend are those specifically geared for students learning English as a foreign language but within this remit there can, again, be a lot of variation, with some being very relaxed while others are much more formal. Most will offer some kind of certificate on completion but will not necessarily be standardised.
However, some au pairs will want to do internationally recognised courses for which they will get a valued accreditation or certificate for use in their future careers and may be willing to pay more to take formal exams.
These courses are only usually held by private language centres or at universities, so if you have an au pair who is only looking for courses like this, do check to see if they are available in your area as otherwise, your au pair may leave. They may also require your au pair to put in many more hours work, or attend more sessions per week, so you would need to check if the course requirements fitted in with when you need your au pair to work.
Booking in Advance
Language courses for au pairs can become booked up very quickly, so do make sure that you have called the administrators to check for available places and to see if there is a waiting list.
Once you know when you're au pair is arriving, it would then be a good idea to pre-register them on the course so that their place is guaranteed.
Summer School
One thing which is very important to remember is that many regular language courses break for the summer. Therefore, if your au pair is arriving during this time, do remember to warn them that they may not be able to start a course until September.
Alternatively, some colleges operate summer schools, in which case, check to see if they are available and whether your au pair would be happy attending one of these sessions.
If you are having an au pair for the summer only, then most au pairs know that it won't be an option to go to language classes - but it is still your responsibility to make sure that they are aware of this.
Find out What Time the Classes are
A very important thing for you to do before your au pair arrives and wants to start school is to find out when the classes are.It's no good if the only class running is at 3.00 – 4.00pm - precisely the time when you need your au pair to be collecting your children from school! So make sure the class hours don't clash with essential times when you need your au pair to be on duty.
If day classes are not an option, then many colleges also offer evening classes, so, again, do ask around to find out what's available.
If in doubt, the best person to ask can be another au pair! They will be able to offer some insight into the quality of the teaching and whether they are enjoying in the classes which can be invaluable.
You might also like...