Safety Concerns When Hiring an Au Pair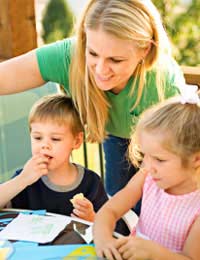 This is probably one of the most common concerns of anyone who is considering having an au pair to stay. And justifiably so, for it's true; au pairs are people you've never met before who come from abroad to stay with you. To all intents and purposes, you'll be inviting a total stranger into your home and there's no way around this fact.
However, there are many ways by which you can reduce the risk factor, and if you are careful to follow advice, you should have no major problems – so read on!
The Illogical Fear Factor
The easiest way to tackle this understandable and difficult issue is to break it down a little further. Is there a specific concern or are you just aware of a vague anxiety? Ask yourself what would be the worst that could happen. Most parents will answer something such as 'the au pair murders my child in the night'. Think how realistic this could be and re-assess your worry.
Once you have addressed this 'abstract' fear, make a list of all the things you can imagine might go wrong. You'll find that in most cases, you will be able to arrange things so that they don't, or put safety mechanisms in place.
Use a Reputable Agency
If you are concerned about the level of risk you are taking in approaching an au pair applicant direct from the Internet, use a reputable agency.
While an agency will also not have met the applicants in person – and it is important to acknowledge this – they do work with other agents in the home country of the au pair and are sometimes able to find out more about them and their background for you.
Follow up References
Good agents will also collate all background documentation of each applicant. This will include a recent doctor's certificate which must be signed to say that the candidate is fit and healthy to work as an au pair (although it doesn't cover a psychological assessment), a police report (stating that the au pair has no previous criminal record), sometimes a school report, and those all-important references.
Never assume that the references have already been followed up. You MUST do this yourself.
Get to Know Your Au Pair Before She Comes
When you choose your au pair, don't just ignore her after the first call and then wait for her to arrive. As soon as you have made your choice, start building a relationship by email and phone. This way, you will not only begin to get to know each other but you will also be able to start making some kind of assessment about her reaction to certain things. If anything seems odd, then much better to stop the arrangement there and then, then experience upset to your family later.
Talk to the Family of the Au Pair
Try to put yourself in your au pair's shoes. If you are worried about having a stranger in the house and whether she might be dangerous, think about things from her point-of-view. This is a young girl coming to a whole family of strangers, where anything could happen. She will be far from home, and probably feeling much more vulnerable than you!
Her family may be letting her go for the first time and will be just as anxious that their teenage daughter is going to be safe! These problems can often be overcome if you also request to speak to your au pair's mother. Talking Mum to Mum can do wonders to diffuse potential anxiety.
Follow the Guidelines
An au pair is not trained in childcare and should never be left in sole charge of a child under three. If you follow this advice, then there can be no risk of the au pair shaking the baby or allowing a young toddler to expose itself to danger. If you need childcare for very young children and you can't be present, hire a qualified nanny.
Use Common Sense
Write down a list of potential hazards that could befall your children, your au pair, or your property while left in the care of the au pair. Make sure she knows how to lock the house, take care crossing roads, use the cooker, or iron safely etc. If you are not convinced of her responsibility, put mechanisms in place to avoid such situations or change your au pair.
Ensure Your Au Pair is Safe Herself
If your au pair wants to go out for the evening, make sure you know where she is, who she is with, and what time she will return home. Check that she has a fully charged phone (in credit!) and that she is not walking at night alone.
…and don't worry!
You might also like...
Getting to know your Au Pair is really important, thats why it is a must to conduct an interview. It's really one way of assessing the person's personality and character. Thanks for sharing.
Angel
- 26-Feb-13 @ 1:47 PM