Speculative Au Pair Letter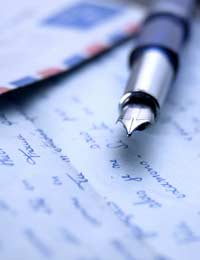 When first approaching an au pair, they will expect to receive a family profile, recording basic details of the family such as name, location you live, when you require an au pair to start and for how long and so on, but they will also be looking for anything that gives them an insight into the 'character' and personality of the family as a whole.
The best way to do this is to write a speculative letter to the au pair and include it with your family application.
The 'Dear Au Pair' Letter
This letter is commonly referred to as a 'Dear Au Pair' letter and is your chance to promote your family! After an au pair has glanced through the main profile to check dates and timings are compatible, they regard the letter as the next most important document and will often accept or reject a family at this stage on the basis of the letter.
Be Honest
You can make the letter as long or short as you like, include pictures or photos, and generally 'style' it to reflect how you see yourselves and to describe the life you live. However, it is important to record a true and honest portrayal. If you tell the au pair you are a calm and tidy family, when in fact you are noisy and messy, because you think it may 'attract' an au pair, you will only be asking for trouble later!
Don't worry about what you're like, or where you live – just be honest - because there will always be an au pair out there who thinks you are perfect! The trick of finding the right au pair is by to find the right 'match' and someone who likes the sound of you just as you are.
How to Write a Speculative Letter
Whatever else you choose to include in your letter, there are several basic things which the au pair will be looking for:
A description of you and your partner, if you have one, what you do and perhaps your approximate ages.
A description of your children, their personalities and what they like to do.
Details of how you spend your leisure time in terms of hobbies, interests and holidays.
A description of the location where you live, including what might be on offer for an au pair to see and do.
An approximate 'timetable' of when you will want your au pair to work and what kind of jobs they will be doing as well as an idea of how you see the au pair fitting into your family.
Details of language schools nearby and a confirmation that they will be able to attend classes.
Sample 'Dear Au Pair' Letter
Dear Au Pair,
Hi! We are a family of four - Ben (Dad), Caroline (Mum), Jenny (6) and Tom (4).
We lead a normal, happy life in a beautiful English town called Townville which is situated in the West of the country. Its a medium-sized market town and has everything you need, including a good library, cinema and local language school where you'll be able to go to classes once a week and meet other au pairs.
We are looking for an au pair to come and be a big sister to Jenny and Tom and to provide a much-needed extra pair of hands for Mum!
We live in a 4-bedroomed semi detached house and have an average sized garden where we keep our pet rabbit, Bumbles – so hope you like rabbits!
Ben works for himself as an electrician and I have a part-time job in a dress shop but otherwise am at home looking after Tom (although soon he'll be starting school).
Jenny and Tom get on well with each other and like to play at dressing up. Jenny enjoys ballet and gymnastics classes and sometimes has friends to play after tea and Tom just likes getting messy! They are both lively children who like to have fun and are looking forward to an au pair who will play games with them.
At the weekends, we like to spend time as a family and often go for a walk in the nearby countryside or meet up with friends.
We are sociable and friendly and look forward to welcoming our au pair into our home where she will be treated as one of the family.
Kind Regards,
Make Time
All young families are very busy and it can be hard to find time to put together an application for au pairs. However, if you make time to do it well, you will attract lots of applicants!
You might also like...