Working as an Au Pair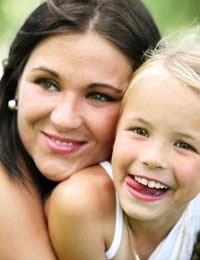 Working as an au pair is a very rewarding way to spend some time before going to university. You have the opportunity to travel, learn another language and experience another culture at first hand, whilst receiving full board and lodging from a host family.
To find out more about working as an au pair, read on!
How Old Must an Au Pair Be?
An au pair staying in the UK should be aged between 17 and 27 with no dependents. However, requirements for different countries do vary a little and the average age bracket for most countries is actually 18-30 years old.
What Skills Should an Au Pair Have?
To work as an au pair, you don't need any special skills or formal qualifications in childcare. However, there are definitely certain criteria that make some au pairs much more successful than others. As such, the best au pairs will have all or some of the following key attributes:
A love of children
A flexible approach
A Willingness to learn
A cheerful and outgoing attitude
Responsibility and reliability
A good attitude to hard work/household chores
Reasonable language skills
How Much Does an Au Pair Earn?
Depending on which country you go to, an au pair will earn between £60 and £100 per week pocket money over and above receiving full board and lodging.
This should be paid weekly, in cash, unless a bank account has been arranged.
What Does An Au Pair Do?
An au pair will help with light housework and childcare and should also expect to baby-sit 1 or 2 times per week for the family. Jobs that an au pair might be asked to do will include the following:
Tidying and helping clean the house
Vacuuming, sweeping and dusting
Cooking simple meals
Helping get children up in the mornings and taking them to school
Collecting children from school and supervising friends to play or taking to after-school activities
Helping children with homework
Helping with family pets, such as walking the dog
Babysitting
Hours an Au Pair Works
A standard au pair in the UK works for up to 25 hours per week and should receive 2 full days off per week. For every six months work they do for the family, an au pair should also receive a minimum of one week's paid holiday. However, each country has slightly different rules, so do be sure to check.
Can an Au Pair Attend Language Classes?
Part of being an au pair is in order to improve your language skills and it is a fundamental requirement of the au pair programme that the family allow au pairs to attend language classes.
In some countries the au pair will be expected to pay for the course themselves, but in others, the host family may be required to fund at least part of the cost, so again, do check details of the country you wish to visit.
Who Pays for What?
In most cases the au pair would be expected to have to pay for their own return travel to the country in which they wish to work as an au pair, language classes, and insurances - and also have enough money to cover an emergency situation.
What Documents Does an Au Pair Need?
To apply for an au pair position, an applicant will be expected to complete a set of detailed application forms, provide evidence of their identity, have a letter from a doctor testifying to the fact that they are fit and healthy to travel and look after children, have a police check stating that they have no criminal record, and at least two checkable references. If they can drive, they will also be asked for a copy of their driving license.
All in all, working as an au pair is a fun and exciting way to spend a gap year. However, it is important that you are sure you understand the role and that you can commit to a minimum length of time with one family. For more information on working as an au pair, do read our other articles and find out how you can prepare for the role.
You might also like...
Excellent article and excellent website in general!very informative and handy-keep up the good work team!
SurreyAupair
- 14-Sep-12 @ 12:26 PM