Accredited Language Courses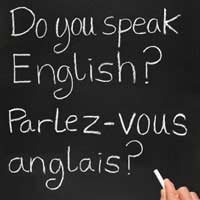 One of the prime reasons au pairs visit the UK is to learn English or to improve the language ability they already have – but from the many available, how easy is it to choose the right course? Here we offer advice on how to find an accredited course and make sure your au pair receives bona fide training.
A Course to Suit all Levels of Ability
For every au pair who comes to Britain, there will be a different reason to learn English coupled with a different level of ability.
These will range from au pairs who come with only the rudiments of English and whose aim is merely to be able to communicate reasonably well by the end of their stay, to those who are already competent speakers and are aiming for complete fluency – often because they have a career planned which relies upon the ability to study in or work in English.
In the same way, there are language courses that cater for all needs, with local community courses being at the 'lower' more informal end and colleges or private language schools offering internationally-recognised certificates for the high achievers.
What is Accreditation?
An accredited language course means that it has been inspected and checked for quality by the Accreditation UK scheme which is promoted and run by the British Council and English UK in tandem.
Accreditation through them currently provides the only assurance of quality in the UK and all good courses should be able to tell you if they are accredited. If in doubt, look for the 'Accredited by the British Council' mark on their information.
How to Find an Accredited Course
A good starting place for any au pair or family wishing to find an accredited language course is to compile a list of your local English language courses by looking in the yellow pages, asking your au pair agency, if you have used one, or by searching on the Internet. If you have problems, there are some very useful databases which can provide this information and which you can access via the websites given in the More Information section below.
Terminology
Due to the many different types of English language courses on offer, to the uninitiated, they can appear quite confusing. It can therefore be helpful to acquaint yourself with some of the abbreviations below:
EFL – English as a Foreign LanguageThese courses are run by people trained to teach English to foreigners and are specifically set up to do so.
ESOL – English as a Second or Other LanguageESOL courses are aimed at teaching English to foreign nationals who may or may not have English as a second, or other language (for instance for Commonwealth students). They may be aimed at those who already have a good grasp of English as a second language, such as people from India or Singapore.
EAP – English for Academic PurposesMuch as this title suggests, this course is aimed specifically for foreign students who wish to undertake academic study in English – either in the UK or at home.
IELTS – International English Language Testing SystemThis is a recognised language ability test for the internationally recognised Cambridge exam system.
English PlusThese courses often run as summer schools in popular towns such as Cambridge, London, Oxford, Stratford-upon-Avon and seaside towns such as Bournemouth, Torquay, and Brighton. They combine learning English with other social activities and it quite often happens that au pairs have done one of these courses prior to applying to be an au pair. It may also be that your au pair can attend a course like this part-time if there are none others running during the summer holiday.
You might also like...