What is a Live Out Au Pair?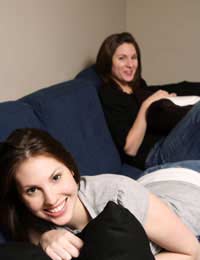 When you first decide to have an au pair you must then decide whether you wish to have a 'Live In' or a 'Live Out' au pair.
Live In Au Pairs
Normally, au pairs travel from their home country to accept a role as an au pair for a host family in the UK, and as part of that role, they will live with the family and receive full board and lodging and experience British family life to the full. However, there are a small number of girls who seek positions as 'live out' au pairs.
Live Out Au Pairs
Live Out au pairs are girls who have usually been an au pair for at least one family already and who prefer to find lodgings for themselves in the UK – perhaps sharing a flat with other au pairs or girls from their own country – and travel to the house of their 'host' family each day to fulfil their au pair duties.
Live Out Au Pairs Should Be EU Nationals
Live Out Au Pairs need, by definition, to be EU nationals in order to comply with the Immigration restrictions on non-EU citizens working as au pairs in the UK.
Strictly speaking, they do not adhere to the original intentions of the au pair programme or perhaps the 'spirit' of the scheme. However, as EU nationals, they are free to find work and live in the UK as long as they comply with all relevant regulations and they do offer a service to families who are looking for this kind of person.
Mother's Help
Often Live Out au pairs, because they have had previous au pair experience, are looking for work either as a Mother's Help or as an Au Pair Plus. Both these roles offer more work hours to the au pair and therefore greater responsibility for a higher amount of pocket money per week.
It is also unlikely that they wish to attend language school, which greatly increases their flexibility to the family in terms of the times they are available to work.
Pay For Live Out Au Pairs
Since this type of au pair is not living with the family - and therefore receiving full board and lodging from them, their pocket money is generally worked out differently.
Live Out au pairs will have bills of their own to pay and will therefore be looking for a higher weekly remuneration. Often their 'pay' will be charged by the hour and generally be rated between £4.00 and £6.00 per hour.
Tax and National Insurance For Live Out Au Pairs
If your Live Out au pair is living 'permanently' in the UK and has been working as an au pair for more than two years, they actually no longer fall within the 'au pair' remit – so do be sure to check this with them before they start working for your family.
Similarly if they are asking a 'wage' (rather than for a small amount of 'pocket money' each week), then they will fall under employment law regulations and be subject to the same rules and as anyone else in the UK.
It would therefore be wise to check the credentials of your au pair; whether he/she has the correct paperwork to be resident in the country and to find out whether they have an N.I number or not.
If they have worked here a while, they could well be subject to tax and if they are not paying it, you will be implicating yourself if you employ them on a merely cash-in-hand/no-questions-asked basis.
Whichever kind of au pair you choose, there is bound to be the right person out there for you!
You might also like...
Hi, I am looking for an live out au pair. Kind regards
Sadi
- 16-Dec-19 @ 6:28 PM
i am looking at starting up an Au Pair Agency in London. I am looking for as much help and information on starting an agency and also rules and regulations I will have to adhere to. Any help from you or advise will be greatly appreciated.
Feyi
- 24-Jun-15 @ 7:17 AM