What if The Au Pair Crashes The Car?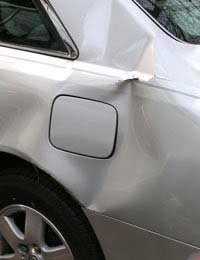 Many families need an au pair who is able to drive. However you will also need to consider what will happen in the event that your au pair has an accident whilst driving. Here we help you to reduce that potential risk.
Risks Associated With Young Foreign Drivers
If you need an au pair who can drive, there are several obstacles you must first address:
Au Pairs are, by definition young (most are aged 18-20) and will not have had much driving practise.
Foreign drivers may not be up to the standard of British driving.
Foreign drivers will need to negotiate a new set of signs and road layouts and might never have driven on the left-hand-side of the road before.
So, given that your au pair will be young, relatively inexperienced, and driving in a foreign country, it naturally increases the likelihood that she may at some point have an accident.
Reducing The Risk of an Accident
There are several things that make good sense and will certainly help to cut down the risk of a problem and also increase the safety of your au pair, your children, if she is driving them, and your car:
Provide some professional lessons for your au pair as soon as she arrives. This will enable you to assess her driving ability, introduce her to British roads, and increase her confidence of driving in another country.
Provide a copy of the Highway Code for her to study. Some signs are not international and it is important that au pairs recognise what them immediately!
Provide a satellite navigation system for her to use in the car. This will make sure she doesn't get lost, panic about where she's going (for instance in taking children to after-school clubs) and increase her chance of making a mistake. 'Sat. Nav'. Systems can also be set to indicate when exceeding the speed limit, so this can also be an invaluable tool.
Provide her with an 'old' car. Obviously, you need the car to be safe and roadworthy, but if the au pair has an accident, you will at least want the peace of mind that the car will be relatively inexpensive to replace or repair.
Choose your insurance package wisely. Some insurers offer 'curfew' packages for young people whereby they are in breach of the terms if they drive between certain hours (such as after 11pm). This effectively stops you au pair from driving at unsafe hours when she may be tired.
Consider limiting your au pair to taking no more than one passenger in the car socially, when she is driving. This can seem mean, but is likely to reduce the risk of carrying a carload of 'revelling' au pairs out in the evening.
Preparing Your Family & Au Pair for Risk
Before you allow your au pair to drive, you would be wise to spend some time in assessing the risks associated with driving in the UK and preparing your au pair on what to do in the worst case scenario. By following these tips, you can help to prevent a bad situation from being a disaster.
Make sure your au pair understands never to drink and drive.
Make sure she understands never to go over the speed limit. Explain about licence 'points'.
Go through the procedures she should take if there is an accident – such as to keep calm, support and calm the children (if present), call the host family and Agency (if used) immediately. Think about what you would do in this situation and nominate a close friend who may also be willing and available to be called in an emergency.
Who pays for the Damage if there is an Accident?
However harsh it seems, if an au pair damages your car, you would be liable for the cost.
However, it is a difficult area and if the au pair was driving in her own time, admits to being careless and it is not the first time it's happened, you may wish to discuss the possibility of her contributing a limited amount towards the cost of repair. If you are on good terms with the parents of the au pair, maybe you could raise the subject with them, but they are not obliged to offer any payment.
As we all know, accidents do happen, but by taking these steps and following a simple, precautionary approach, you can help to make sure everyone is kept safe.
You might also like...