What Countries Do Au Pairs Come From?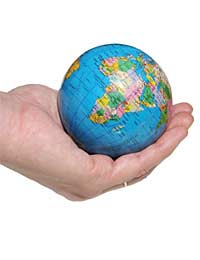 For years there has been a kind of 'nudge, nudge, wink, wink' image to au pairs, with the men giving each other furtive glances and giggling over the idea of having a sexy Swedish Blonde or young Fancy French girl in their home and women rolling their eyes while making sure they steer clear of Scandinavians!
However, although Swedish and Dutch girls came to the UK back in the 1970's to work as au pairs, times have changed, and with the opening up of the EU, they now rarely choose this option as a way to live and work in Britain.
There are definite patterns of behaviour which can be tracked, of different nationalities applying to be an au pair, which usually goes hand-in-hand with the economic environment, so that now it will be far more common to be hosting an Eastern European or Turkish girl as a long-term au pair option.
So, when you first consider having an au pair, you will also need to think about what nationality they might be, how you might feel about possible cultural differences and whether they will be eligible to come to the UK.
Not All Countries are Part of the Au Pair Scheme
This last issue is especially important, because contrary to popular belief, au pairs can't just come from any country; there are fairly stringent rules and regulations in place to govern who comes into the country to work as an au pair.
One of the most common misconceptions is that Australians, Americans and Filipinos girls are able to take part in the scheme. However, while they may be able to apply for a visa and stay with a family as part of a working holiday or domestic worker scheme, they are not technically allowed to work as au pairs.
Countries Which Are Part of the Au Pair Scheme
The British government, in conjunction with a number of other countries, has developed the Au Pair Scheme as a way whereby young people from abroad may travel to the UK as part of a cultural visit in order to learn English and experience the British way of life.
Au Pairs come therefore from countries which are in partnership with the government and members of the same scheme, as listed by the Home Office.
The list of countries which au pairs are able to come from includes:
Andorra
Bosnia-Herzegovina
Croatia
Faroe Islands
Greenland
Macedonia
Monaco
San Marino
Turkey
Members of the EEA (European Economic Area) are not listed as being part of the au pair programme but they are nevertheless legally able to enter the UK as au pairs.
Romanian and Bulgarian Nationals are also able to apply for the au pair scheme, but need to apply for an Accession Worker Card (or Purple Card), in order to do so.
Stipulations of Being an Au Pair
To work as an au pair in the UK, there are also other criteria which applicants must abide by; you must be:
Aged between 17 and 27 at the time of application
Single, with no dependents
Able to support yourself financially without making claim on the State Services here
Intending only to stay in the UK for up to two years and no longer
Intending to return home immediately the au pair stay is completed
The Future
In November 2008, the government is introducing a new points-based system of entry into the UK as published on 6th May 2008.
One of the groups being re-assessed is that of au pairs, and plans are in place to re-classify the old-style 'Au Pair Programme' as part of the new 'Youth Mobility Scheme'. This scheme will amalgamate other groups currently operating under different titles and all with slightly different entry requirements. These include:
The BUNAC scheme (British Universities North America Club)
Gap year entrants
Youth Exchange for Japan
MP research assistants
Working Holidaymaker scheme
In effect this will mean that for au pairs, the age category will change to 18-30 years and the list of countries which au pairs may legally come from will expand to include British overseas citizens or overseas nationals as well as the possibility of other countries.
What's important, then in thinking about your next au pair is what nationality person do you think your family would really be interested to host and is their country part of the current list, or about to become one of them in November?
You might also like...