New Au Pair Rules for 2009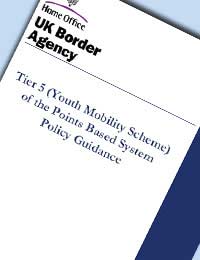 As of the 27th November 2008, the former Au Pair programme run by the British government for many years was superseded by the new, shiny Youth Mobility Scheme (YMS).
The Youth Mobility Scheme was introduced as a way of rationalising lots of different ways young people come to the UK for a temporary period; to work, study or learn English - and Au Pairs is one of those categories.
New Rules
The YMS has also evolved as part of the Home Office change to a points-based entry system for immigrants as a more efficient way of controlling entry to the UK. So, although the spirit of the au pair scheme remains the same for host families, agents and applicants alike, there are nevertheless, some rules which have changed.
Age
Young people wishing to come to Britain as an au pair, now have to be a minimum age of 18 at the time of application (it used to be 17) and a maximum age of 30 (a welcome expansion of the age range from 27). Because a stay in the UK can be for up to 2 years, an au pair may now work up to a maximum age of 32.
Sponsors
Under the new scheme, an au pair must now have a sponsor to apply for the Youth Mobility Scheme.
The sponsor is actually the government of their country and if from an EU or EEA country, then the governments have long-standing sponsorship agreements as members of the European Community and nationals need not apply for a visa. However, if from a non-EU country, your government will need to have specific sponsorship arrangements with the UK.
Sponsoring Countries Outside the EU
The only countries which have so far made arrangements with the UK to be sponsors for the Youth Mobility Scheme are, Australia, New Zealand, Canada, and Japan.
This probably throws up the biggest change to au pair rules for 2009 because non-EU countries which had previously enjoyed arrangements with the government under the old au pair scheme, have either been refused membership, or have not yet re-applied under the new system.
These countries include most notably Turkey, Croatia, and Macedonia, although the full list at the time of writing includes:
Andorra
Bosnia-Herzegovina
Croatia
Faroe Islands
Greenland
Macedonia
Monaco
San Marino
Turkey
Are 'Old' Visas still Valid?
If you are an au pair - or family who has an au pair - who has a visa obtained under the old rules (i.e. by or before 26th November, 2008), then it is perfectly legal to host or work as an au pair until the visa expires. Similarly, agents may still place au pairs who have valid visas, with families.
The most common au pairs in this situation are Turkish and if they weren't granted a visa prior to the cut-off date, they are currently no longer legally able to enter the country under the Youth Mobility Scheme.
Financial Backing
Another important change of rule under the new scheme is that anyone applying for a fifth tier Youth Mobility Scheme visa, will have to prove that they have sufficient financial funds to support their stay. Documents showing a current, accessible balance of £1,600 or more, needs to be submitted to visa officers for inspection. If this financial support is not in place, then applicants will not be granted entry.
Additional Work
Whereas before, any additional work taken on by au pairs (unless EU nationals), was a very grey area, under the YMS visa conditions, young people are freely able to work whilst in the UK, (but should be not self-employed unless complying with strict conditions as directed by the Home Office). So this opens up the possibility of a range of other jobs for au pairs.
Overall, What do the New Rules Mean?
All in all, the new rules mean that while there will be less au pairs coming from Eastern Europe (due to them finding higher paid jobs elsewhere), and no more from Turkey for a while, there will still be many young girls from France, Germany, Italy and Spain wanting to improve their English and experience life with a British family during their gap year – and in this respect, the switch to the Youth Mobility Scheme makes no substantial difference.
You might also like...