Do Au Pairs Need Work Permits or Visas?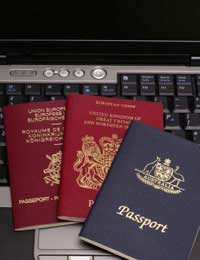 The issue of whether au pairs need official paperwork in order to enter the UK is something that strikes fear into the core of every family's being. However, it need not be the minefield it seems, so read on!
Nevertheless, whether you are a family sponsoring your own au pair into the country, using an agency or an au pair agent checking the credentials of au pairs, it is essential that you know the rules as it is your responsibility to make sure your au pair is legally able to accept a position in the UK.
Of the countries which are part of the Au Pair scheme, there are currently three main groups which require different paperwork.
Countries which are Members of the European Union
Countries which have recently been accepted into the European Union or whose membership date has been finalised but who are still yet to officially become Members (known as Accession Countries) and for whom entry rules have altered.
Countries which are not yet part of the EU but are part of the Home Office Au Pair scheme
EU Nationals
If your au pair is from an EU country, they are legally able to enter the country without restriction and do not require a visa to work in the UK. In addition, although not part of the EU, Swiss Nationals and those from the European Economic Area (EEA) are also free to come to the UK as an au pair.
Accession Countries
Many Eastern European countries are referred to as Accession Countries, sometimes erroneously. However, for our purposes, we are only interested in those countries who have recently joined the EU but for whom entry requirements for the UK have changed.
As of 1st January 2007, Romanian and Bulgarian nationals no longer need to apply for a visa to come to the UK to work as an au pair, however they do need to apply for what is known as a Worker Accession Card (also known as a Purple Card), which permits them to work in the UK for a limited period and only to do certain jobs - one of which is au pair work. If the application has not been made before the au pair arrives, then it is also possible to apply for a card once in the UK, within the first three months of being here.
Non-EU Countries
Bosnian, Croatian, Macedonian, and Turkish nationals are not yet part of the EU – but are part of the Au Pair scheme - and require a visa to enter the UK.
When a family has chosen a candidate from one of these countries, they need to send them a letter of invitation or 'job offer'. Once an au pair is in possession of this letter, they are able to apply for a visa at the British Embassy or Visa Processing Centre in their home country. It is imperative they do this before they travel because may not be allowed to enter the UK without the required documentation and detained by Immigration.
Applying for a Visa
Applying for a visa is usually a two-step process, the first of which is to complete an application form which is downloadable from the Home Office website or available from a visa application centre.
In addition, Au pairs will need to present their passport, a recent passport-type photo, and any other required supporting documentation, a list of which is appended to the application.They will also need to provide biometric information (usually fingerprints are taken) and pay a non-refundable fee for processing the visa application.
The second step is sometimes an interview. Once the visa application has been received and checked, the applicant may be called for interview and questioned about their intentions to work abroad as an au pair. On the day of the interview, if there is any doubt as to the authenticity of the application, the visa officers may decide to call the prospective host family, so it is a good idea to be near a 'phone on this day.
Once the visa has been granted, the au pair is free to travel at any time to take up his or her position for the stipulated period of time stamped in their visa.
The Future
From November 2008, the government will introduce a new points-based system for entering the UK. Au Pairs will fall under Tier 5 of the system as part of the new Youth Mobility Scheme.
Although all details have not been published at the time of writing, the age limit will be extended to 30 years of age and more countries may be invited to participate in the scheme.
You might also like...