Difference Between a Nanny and an Au Pair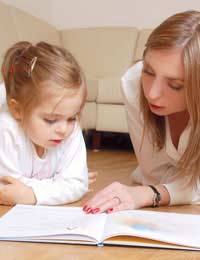 Although the terms of nanny and au pair are used interchangeably, in fact the two jobs are very different and it is important to understand the difference.
A Nanny
A nanny is a trained person qualified in childcare. They must be able to present appropriate qualifications and references. If a nanny has not had full training, they must be able to present significant proof of their experience in the job.
A nanny will expect to attend a formal interview with a potential family and to take original copies of certificates and associated documentation for inspection. She should be prepared to be able to answer questions on all aspects of childcare as well as demonstrating an understanding and awareness of health and safety in working with children.
A nanny works for a family as their employee and must be given a Contract of Employment. All the usual rights associated with being employed are extended to nannies as are those to the family as the employer.
Nannies may either live-in or live-out, working either full time or part-time, depending on the job being offered. However, it is normal for a nanny to live locally and travel in to work each day with the family.
Nannies will usually have sole responsibility of the child or children in their care and the most sought after will be fully qualified to take care of children under the age of three.
Nannies will often work a full working week amounting to 40-60 hours.
Nannies usually undertake all aspects of work in relation to the children and any jobs or tasks around the home associated with them.
For all of the above reasons, being a nanny is a vocational profession and can command a respectful salary. Families should expect to pay a nanny upwards of £300 per week plus any expenses they incur whilst on duty.
As a checklist a nanny is:
Qualified
Experienced
Has sole charge
An Employee
Receives a professional wage
An Au Pair
An au pair is a young person aged between 17 and 27 who decides to partake in the governments Cultural Exchange Programme. They are often students who wish to come to the UK to learn English and this is a large part of the remit of the program.
An au pair will come from one of a list of countries that are part of the au pair scheme or from another European country where they are freely able to travel and work within the UK.
Au pairs are not qualified child carers and may have had no previous experience in looking after children whatsoever. It is imperative that families understand this.
An au pair will help baby-sit or take care of the children after school while the parents work, but should never be left in sole charge of a child under three and is not to be treated as a 'cheap nanny'.
Au pairs are often introduced to a host family by an au pair agency which brokers the introduction on the two parties' behalf. However, they have rarely met the candidates, who will still be based in their home country. It is the onus of the family to check references and documentation and to decide upon the candidate they choose.
An au pair travels to the UK after being offered a position and will stay with for an allotted period of time as a member of the family. They are not employees, nor are they merely house-guests, but are somewhere between the two.
In exchange for full board and lodging as well as some simple household duties such as looking after the children in the parent's absence, light housework etc, the au pair will be given a small amount of pocket money at the end of each week.
An au pair usually works up to 25 hours work per week and is paid an average amount of £65 pocket money.
As a checklist an au pair is:
A young person aged between 17 and 27 on a cultural visit
From a different country, in the UK to learn English
Lives with their host as a member of the family
Is not an employee
Is not qualified
Earns a small amount of weekly pocket money plus board and lodging
Must be given time off to attend language classes
Works a set amount of hours (usually up to 25 per week)
Should never have sole care of very young children
Undertakes only light household tasks and childminding duties
You might also like...