Will My Au Pair Speak English?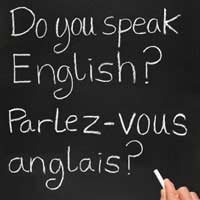 The simple answer to this all-important question is 'yes'. Although it happens, it would be very unusual to find an au pair whose English was completely non-existent. Good agencies will tell au pairs, that unless they have at least a basic command of English, they will find it very difficult to find a position as an au pair.
A more useful question might be, then; 'how well will my au pair be able to speak English?' This question is slightly more complicated to answer.
Family Requirements Vary
Each family who hosts an au pair will have different requirements as to the level of English they require from an au pair. This may be due to personal preference, or perhaps because they feel the job involves a certain level of communication to be done effectively (as with older children, for instance or in order to help tutor children).
Assessment of Language Ability is Subjective
Just as expectations vary, so do the pre-conceptions as to what 'good' English may be – after all, the judgement of how good someone can speak a foreign language is a very subjective one; what is 'good' for one family, may be only 'average' or even 'fluent' for another.
Unless an au pair can present an internationally-recognised certificate which grades their ability, it is a case of what you deem 'about right'. For this reason, nothing can replace actually speaking in person to your au pair and making your own decision before they arrive.
Nevertheless, Given these factors, there are certain generalisations which can be made:
Western European Au Pairs
German, Austrian, Swiss, Scandinavian, and Dutch au pairs invariably have very good, if not fluent, levels of English. They tend to grow up learning English to a high standard and it is quite common for Dutch and Scandinavian girls to be pretty much bilingual. So if they describe their level of English on the application form as 'good', in British terms, it usually means 'very good' or 'excellent'.
Consequently, girls from Western Europe are a very good choice if you want an au pair who can step into the job immediately and understand everything that is going on. They also have much less trouble settling in because they are able to socialise more easily straight away.
French girls are less good at English (maybe the same as the English are at French!), but some families find this more acceptable as they may be able to speak a little French themselves. Also, because English school children will be learning French, it can be useful for the family from an educational point of view.
Eastern European Au Pairs
Levels do vary with girls from countries such as the Czech Republic, Poland, Hungary, and Romania. However, generally speaking, the standard has become much higher in recent years, with Czech and Hungarian girls often speaking very good English. They might describe themselves as 'average' linguists but it would be unusual to find a candidate who couldn't hold a conversation.
Non-European Girls
Girls who are from countries which are part of the au pair programme but outside Europe may more often have poor English. Their paperwork may state that their English level is 'moderate' but it is relatively common to discover it would be more truthfully assessed as 'basic'.
However, these candidates are often prepared to stay for longer than others and are very keen to remain in the UK until their English has greatly improved. For families who are willing to 'invest' in the learning curve of such an au pair, or for whom a higher level of English is not a necessity, they can be a very good option. Once here, and immersed in the British culture, girls quickly pick up the language and you should see a great improvement within the first two months.
Ask Some Questions
When an au pair's ability to speak English is a big factor in your choice of au pair, it is a good idea find out the answers to the following questions:
Has the au pair got any certificates or qualifications in English?
How long has he/she been learning?
Have they had any help with their application form and Dear Family letter?
Have they been interviewed in English by an agent?
Have they worked in England before?
Finally, call the au pair yourself. Check that you are speaking to the right person (and they haven't got a friend to help – it's been known to happen!) and then talk for as long as you feel comfortable in order to make your own evaluation.
Above all, remember that the whole point of an au pair joining the scheme is in order to learn English. Please make allowances for this and be prepared to help them do so!
You might also like...