Will My Au Pair Be Able To Drive In The UK?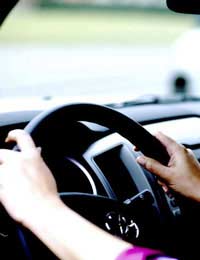 If your au pair is in possession of a full driving licence, or International licence, they will be able to drive in the UK. However, if you require a driver, it would be wise to consider the following points before you allow them near the roads.
Driving Ability
The most important thing to remember is that driving ability can vary enormously! What may be seen to be an acceptable standard of driving in the UK may not be the same abroad. Also, to a certain extent, the rules of the road will differ from country to country.
Age and Experience
Also, be sure to ask for how long they have held their licence. It stands to reason that girls who apply to be an au pair are often very young – the average age being 19 or 20. It follows, then, that they cannot have had much experience at driving.
If you can afford to wait for a candidate who is older and has more driving experience, then great, but please note that your wait is likely to be very long as the demand for these types of girls is extremely high and there are never enough to go round!
How Regularly Do They Drive?
Just because an au pair may have held their licence for a while, it does not necessarily follow that they drive on a regular basis. As we know, practise makes perfect and so it is pertinent to ask if they drive each day, each week, each month, or just occasionally. If you have already accepted an au pair and there is still time before they leave, do suggest that they get in as much driving practise as possible before they come.
Are They Used to Driving in a Town or City?
The type of driving an au pair has done will also tell you a lot about how good they may be. Are they used to driving on motorways? Would they mind country roads? Have they negotiated roundabouts before (they are not common abroad!)? Are they used to driving in traffic? Dependant on where you live, it may be wise to choose a driver who has been used to negotiating a similar terrain.
Do they Own Their Own Vehicle?
If an au pair has had their own car, it speaks volumes. This will mean that they are far more likely to have driven at every opportunity. It also means that they will have assumed responsibility of a vehicle and be used to looking after it -and perhaps even responsible for financing it, which will give them a greater appreciation of the investment you will be making on their behalf!
Are they Prepared to Drive in the UK?
Another basic thing to check is if they are prepared to drive in the UK. It is amazing how many girls are chosen on the basis that their paperwork states that they can drive only to discover that they are not prepared to drive in a foreign country.
Usually it is just a matter of confidence and if driving is not imperative for your children, but you would like an au pair to feel less isolated by having her own means of transport, some gentle encouragement once she is here may help to change her mind. Also, in this sort of situation, alternative modes such as a moped can be a less expensive and still a very flexible option.
Insurance
Remember when considering whether you need a driver, to assess the financial implications. Insuring a young girl can be very expensive. Also, do also factor in additional fuel costs and any possible wear and tear – not to mention damage – that may be incurred.
Driving Lessons
All good agencies will heavily advise that before you let your au pair loose on the British roads you should arrange a few professional lessons for when she arrives. An instructor will be able to help them feel confident about driving on the left-hand-side of the road, familiarise them with the Highway Code and assess whether they would comfortably pass a British driving test.
So – if you really can't do without an au pair who can drive, please make certain that you have carefully assessed her ability in order to keep herself your car - and your children – safe.
You might also like...