How to Interview an Au Pair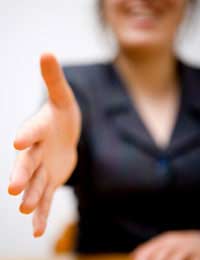 The aim of a first interview is to find out more about the au pair and whether he/she would be a good 'match' for your family. Each family is unique, with its own dynamics and needs, and it is therefore important to find the right person.
What to Ask at Interview
To get the most out of the conversation, make sure you have a clear focus of what you want to know. Write down some questions on a piece of paper and keep them handy to write notes. If you are interviewing more than one applicant, it is easy to get confused!
The main points that you should try to cover are the following:
Language ability
Personality
Background & Experience
Likes and Dislikes
Goals
Language
The initial focus for this first interview is to find out how well the au pair speaks English. Assess what your exact needs are and whether you have the time and desire to help her learn once she is here. Levels and family requirements vary hugely and unless the applicant has taken formal and internationally recognised exams, the judgement of ability is very subjective.
Begin with simple questions that you know the au pair will understand and to put her at her ease but then gently try to speak a little faster or use more difficult expressions to see whether she is able to follow you.
Don't forget, that one of an au pair's main reasons for coming to Britain is to learn English, so please don't expect complete fluency!
Personality
Another important assessment is how the au pair comes across on the phone. Although difficult to judge someone from afar, it is amazing how much can be heard in their voice! Even if there are silences due to the language barrier, think whether they are 'comfortable' or 'awkward'. Does the au pair sound enthusiastic and as if she really wants to meet you? Is she trying her best? Does she laugh at all? All these are valuable insights as to how her attitude might be, once she is here.
Background & Experience
The au pair's application and CV will already have given you a good indication of what the au pair has done in terms of their schooling and leisure activities but you need to find out if she has the right aptitude for au pair work. Have they done any regular babysitting for friends or family? Have they have lived away from home before (and therefore been responsible for their own cooking and cleaning)? Have they been responsible for pets? Asking what their parents do for a living may also help you determine whether their family background, expectations, and aspirations might match those of you and your children.
Likes & Dislikes
This might seem an 'obvious' line of questioning, but its amazing how many clues you can pick up dependant on the answers. For instance, if the au pair likes the buzz of city life, they are not going to be happy in a rural location. Or if they love fast food but you are into healthy eating, then perhaps they won't be the best role model for your children. On the other hand, if they play tennis and your children do also, then this common ground would get them off to a good start and maybe there could be some extra coaching along the way!
Aims
Last but not least, try to assess what your au pair applicant is hoping to gain from the experience. What are their expectations? What kind of family are they looking for? What do they want to do in the future? The answers that are offered will be more 'natural' than the carefully prepared ones for the application form and will give you more of an idea as to whether the applicant genuinely wants to put something into the au pair experience.
In conclusion, it's almost impossible to get a totally accurate picture of how your au pair will be, but by following these simple steps, you will be a little closer to making sure you choose the right person!
You might also like...